Introduction:
A crane is a tower or derrick that is equipped with cables and pulleys that are used to lift and lower material. They are commonly used in the construction industry and in the manufacturing of heavy equipment. Cranes for construction are normally temporary structures, either fixed to the ground or mounted on a purpose built vehicle.
They can either be controlled from an operator in a cab that travels along with the crane, by a push button pendant control station, or by radio type controls. The crane operator is ultimately responsible for the safety of the crews and the crane.
Various Types Of Cranes:
Mobile Cranes
The most basic type of crane consists of a steel truss or telescopic boom mounted on a mobile platform, which could be a rail, wheeled, or even on a cat truck. The boom is hinged at the bottom and can be either raised or lowered by cables or hydraulic cylinders.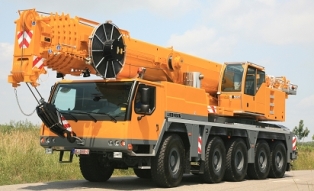 Telescopic Crane
This type of crane offers a boom that consists of a number of tubes fitted one inside of the other. A hydraulic mechanism extends or retracts the tubes to increase or decrease the length of the boom.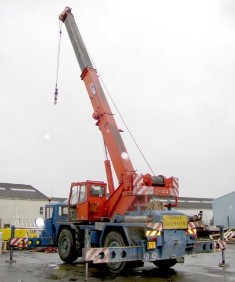 Tower Crane
The tower crane is a modern form of a balance crane. When fixed to the ground, tower cranes will often give the best combination of height and lifting capacity and are also used when constructing tall buildings.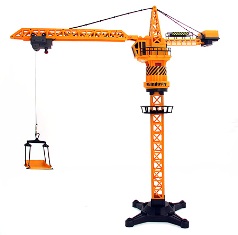 Truck Mounted Crane
Cranes mounted on a rubber tire truck will provide great mobility. Outriggers that extend vertically or horizontally are used to level and stabilize the crane during hoisting.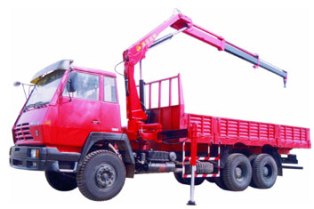 Rough Terrain Crane
A crane that is mounted on an undercarriage with four rubber tires, designed for operations off road. The outriggers extend vertically and horizontally to level and stabilize the crane when hoisting. These types of cranes are single engine machines where the same engine is used for powering the undercarriage as it is for powering the crane. In these types of cranes, the engine is normally mounted in the undercarriage rather than in the upper portion.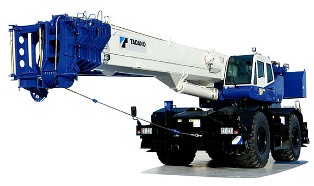 Loader Crane
A loader crane is a hydraulically powered articulated arm fitted to a trailer, used to load equipment onto a trailer. The numerous sections can be folded into a small space when the crane isn't in use.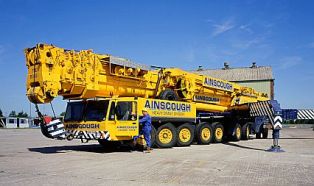 Overhead Crane
Also referred to as a suspended crane, this type is normally used in a factory, with some of them being able to lift very heavy loads. The hoist is set on a trolley which will move in one direction along one or two beams, which move at angles to that direction along elevated or ground level tracks, often mounted along the side of an assembly area.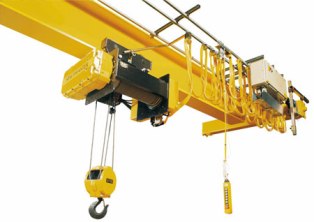 In the excavation world, cranes are used to move equipment or machinery. Cranes can quickly and easily move machinery into trenches or down steep hills, or even pipe. There are many types of cranes available, serving everything from excavation to road work.
Cranes are also beneficial to building bridges or construction. For many years, cranes have proven to be an asset to the industry of construction and excavating. Crane operators make really good money, no matter what type of crane they are operating.
Truck Mounted variable boom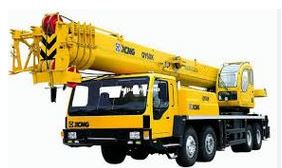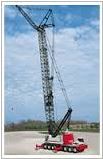 Crawler Mounted variable boom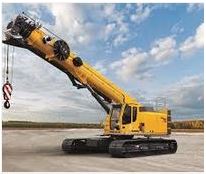 Crawler Mounted fixed boom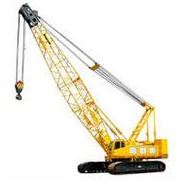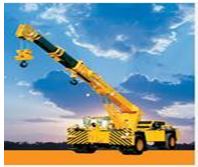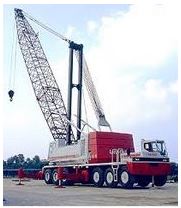 Types of Over head cranes: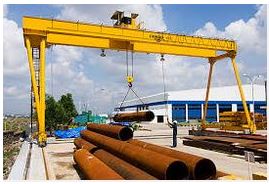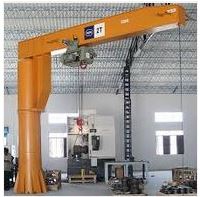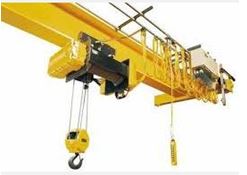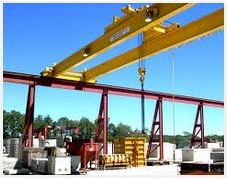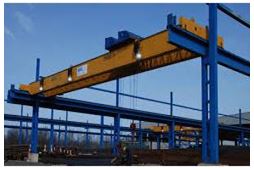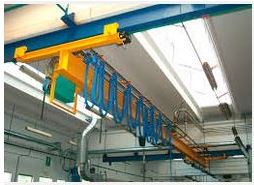 Types of Tower cranes:(Wide varities)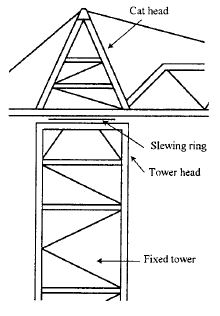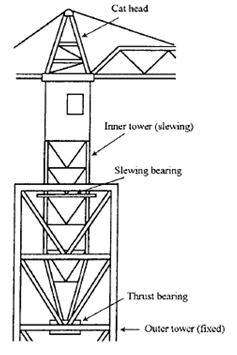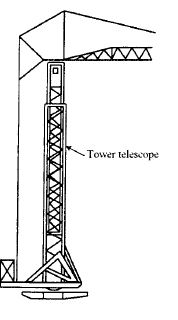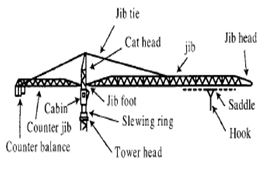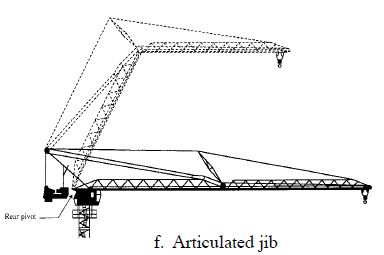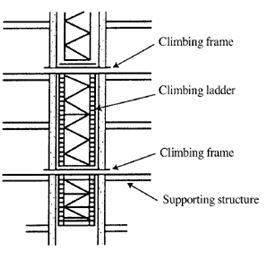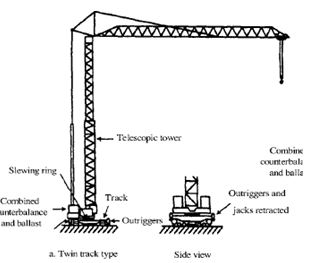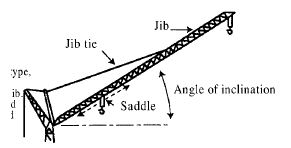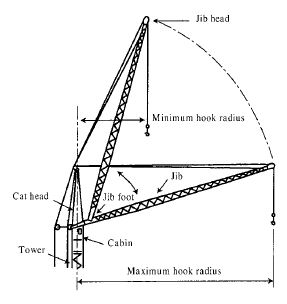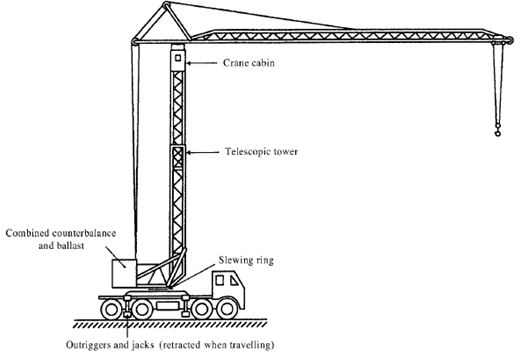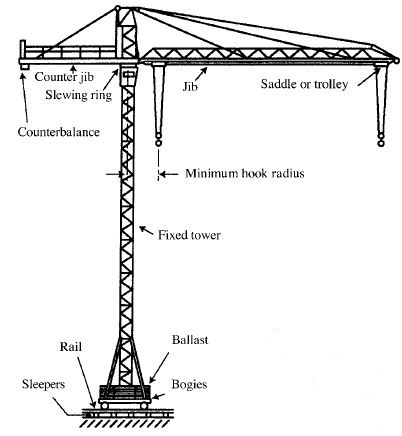 General Requirements:
The will establish crane safety operational procedures through the use of this document. This standard practice instruction applies to cranes used in conjunction with other material handling equipment for the movement of material. The types of cranes covered.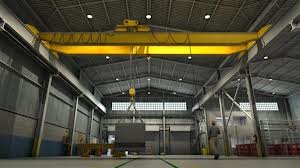 Initial Training:
Training shall be conducted prior to job assignment. This employer shall provide training to ensure that the purpose, function, and proper use of cranes is understood by employees and that the knowledge and skills required for the safe application, and usage is acquired by employees. This standard practice instruction shall be provided to, and read by all employees receiving training.
Training shall include, as a minimum the following:
1 Pre operational inspection requirements of the crane to be used.
2 Specific operational requirements of the crane to be used.
3 Principals of crane operations.
4 Recognition of applicable hazards associated with the work to be completed.
5 Load determination and balancing requirements.
6 Procedures for removal of a crane from service.
7 All other employees whose work operations are or may be in an area where cranes may be utilized, shall be instructed to an awareness level concerning hazards associated with cranes.
Physical and mental requirements of operators. Crane operators will be screened for physical and mental impairments that could result in a improper use. Operators will meet as a minimum, the following requirements before being certified to operate cranes.
Be drug and alcohol free during any lifting event.
Be thoroughly trained in all facets of the required lift.
Have a mature and safe attitude at all times.
Have good depth perception (essential for load spotting).
Have good hearing and vision (corrected or uncorrected).
Have no history of unsafe acts in the workplace.
Have the ability to react quickly in an emergency.
Take no medication that will interfere with the operation.
Understand the requirements for all phases of the lift.
Certification. This employer shall certify that employee training has been accomplished and is being kept up to date. The certification shall contain each employee's name and dates of training.
Safe Operating Practices for Operators:
Whenever any crane is used, the following safe practices (as a minimum) shall be observed:
1. Always check warning devices and signals before use.
2. Always document and maintain inspection records.
3. Always ensure cranes shall not be loaded in excess of their rated capacities.
4. Always ensure the new location support the weight?
5. Always keep employees clear of loads about to be lifted and suspended loads.
6. Always keep suspended loads clear of all obstructions.
7. Always lockout before maintenance or repairing cranes.
8. Always position the hook directly over the load before lifting.
9. Always test brakes by a short lift to ensure control.
10. Before being lifted, loads will be checked for proper balance.
11. Follow the manufacturer's recommendations.
12. Frequently inspect cranes exposed to adverse conditions.
13. Hands must not be placed between the suspension means and the load during lifting.
14. Know where you're going to set the load down!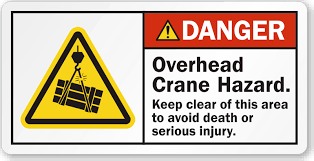 15. Know your travel path in advance of the lift!
16. Loads will in all cases be properly balanced to prevent slippage.
17. Move loads only after being signaled by the designated, qualified signaler.
18. Never allow riders on loads or hooks.
19. Never allow unauthorized persons to operate cranes.
20. Never attempt to operate a crane or hoist that is suspected to be unsafe.
21. Never carry loads over workers.
22. Never carry loads past workers (they must yield right of way).
23. Never use a cranes that are damaged or defective in any way.
24. Operators must watch the signalers.
25. Shock loading is prohibited.
26. Signalers must keep line of sight with the operator.
27. Signalers must watch the load.
28. Test all hoist controls and brakes at the beginning of each shift.
Safe Operating Practices for Signalers
W
henever any crane is used, the following safe practices (as a minimum) shall be observed:
1. Ensure that only one person is the designated signaler.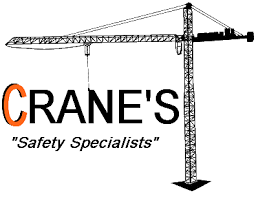 2. Ensure the operator acknowledges every signal.
3. Follow the manufacturer's recommendations.
4. Know the new location will support the weight.
5. Maintain line of sight with the operator.
6. Operators must watch the signalers.
7. Plan in advance where the load is going!
8. Stop the operation any time comprehension is lost.