Types of safety audit:
There are three types of audit , which classified under three category as follows.
1. Compliance audit.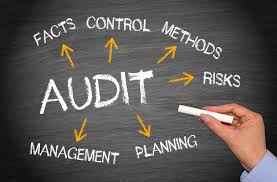 2. program audit.
3. Management system audit.
1. Compliance audit
The most basic audit is a compliance or condition inspection. OSHA does not specifically require that companies conduct safety and health audits, but OSHA regulations are written such that employers must furnish their employees with a place of employment that is free from recognized hazards and complies with certain OSHA standards. Management then develops programs for each employee to comply with certain standards, rules and regulations. In addition, compliance requirements dictate certain record-keeping, programs and training requirements. A true compliance audit will look at all three factors — conformance, record-keeping and training.
A safety audit based on OSHA compliance will determine whether the company can provide a safe and healthful workplace. But this audit on its own tends to focus more on unsafe conditions rather than unsafe acts and behaviors. However, the majority of accidents occur from unsafe acts, i.e., you can have a wet floor (unsafe condition), but an injury may not occur until someone walks on the wet floor and slips (unsafe act). It is impossible to have a workplace free from unsafe conditions all of the time, because conditions and people change and the potential that someone will create unsafe conditions is always present.
2. Program audit:
To achieve a goal of reducing accidents and incidents as well as unsafe acts and conditions which result in accidents, you must have programs in place that dictate how to implement safety rules or requirements. An example of a regulatory requirement is to record accidents on an OSHA 300 log and to do so within six days. A program requirement would describe the method one would use to investigate the accident. OSHA, while providing suggestions for investigating an accident, does not regulate how to investigate. So it is up to the company to define and write down the procedure for investigating the accident in order to implement the safety rule or requirement and to make it meaningful. Having done so, the company now has a safety program in place for the procedure.
A program audit is an analysis that gauges the implementation and strategy of these safety programs. Is the company following its own procedures and programs?
One drawback to a program audit is determining what to use as a standard. There is plenty of guidance but not much consistency in professional practice when it comes to what should be included in safety programs. There are some fundamentals, however. For one, it is essential to any safety program that all procedures are written down. Writing down the program allows the communication of the hazard as well as the procedures for minimizing exposure to the hazard and allows the procedure to be checked, measured and or audited. If unsafe acts create unsafe conditions, you need a program to communicate how to stop doing those things.
One challenge is that keeping safety programs current requires being able to manage change. New facilities, equipment and personnel (i.e., change in shift hours if it means an increase in workers' exposure time) require changes in safety programs.
Both the compliance and program audit are useful snapshots to indicate potential exposures and risks. The value of these audits is to find the safety gaps so they can be closed. Another value is to verify if people are really following established safety guidelines. But an audit that is conducted only once a year is limited if there is no ongoing process by which to measure peoples' performance how often and how well are employees using and following safety programs.
Management systems audit
The final step in a comprehensive safety audit is to evaluate and validate the effectiveness of, and management's commitment to, safety compliance and programs, employee involvement, and risk control procedures. The management systems audit examines accountability, effectiveness of this implementation and how well the company's health and safety program is integrated into the overall culture. A management systems audit integrates all three audit techniques, document review,
interviews and workplace observation, to make these determinations. Finally, to make safety programs sustainable, they must be integrated into the company's existing business practices.
Who conducts the Safety Audit?
The Safety Audit is an interdisciplinary self-assessment tool, so the work is conducted by a community team of domestic violence experts and key workers who represent the systems that are being examined. Team members collect data and meet as a group to discuss the Audit findings; recommend changes in policy, procedure, and training; strategics how to implement the recommended changes; and help implement, monitor, and evaluate the changes over time.
What happens during a Safety Audit?
The process involves examining whether institutional policies and practice enhance the safety of battered women and their children, as well as enforce perpetrator accountability. The Safety Audit does not assess individual effectiveness or actions. An Audit involves mapping the system, interviewing and observing workers, analyzing paperwork and other texts generated in the handling of domestic violence cases. Recommendations coming out of an Audit process are directed toward institutional changes that will enhance victim safety and perpetrator accountability.
Who serves on the Safety Audit Team:
The Audit team typically consists of practitioners from agencies involved in the case processing under review. All Audit teams have a significant presence of community-based advocates who have expertise in the dynamics of domestic abuse and a close relationship with victims of battering. The goal is to have an analysis that incorporates the knowledge of a cross section of people who work with these cases everyday. Audit team members must be committed to inter agency cooperative work, confidentiality as agreed upon by the team, and an openness to find and fix problems without creating or deepening inter agency conflicts.